The burgeoning East Boston, or "Eastie," is perhaps one of the trendiest places to live in the Boston area right now.  Home of the best pizza in Boston, Kennedy family roots, and hands down the best views of the city . . . does it live up to the hype?  We think so.  Here are our top five reasons for being bullish on this side of Beantown.
1. The View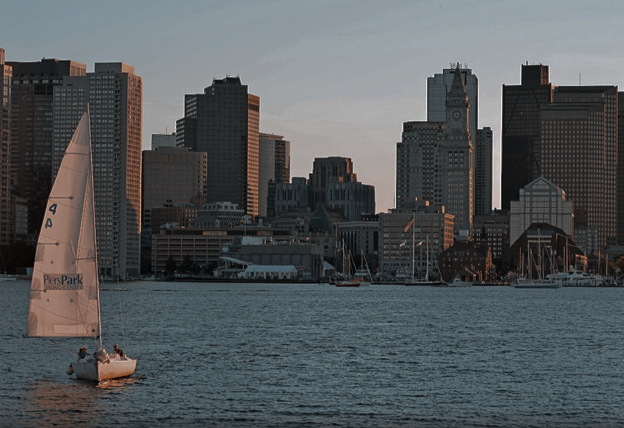 Source: Slip 45

These views only come from without, not within. Imagine waking up to the below view every morning, or having it as your backdrop as you watch your children play soccer in LoPresti Park, Harborwalk, or Piers Park. Bonus: fall asleep every night to the tranquil sounds of Boston Harbor.
2. **The Convenience**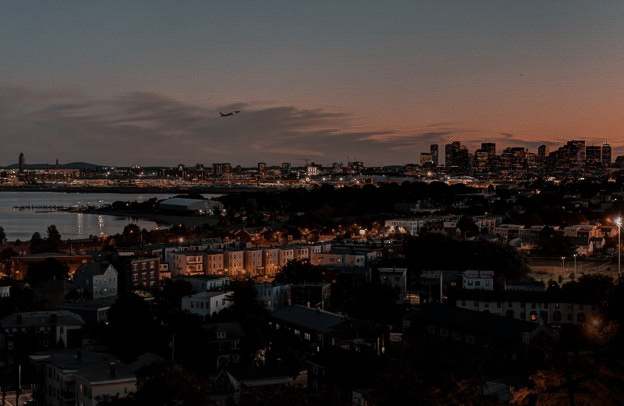 Source: Bill Damon, Flickr

Both the Blue Line (one of the more reliable ones) and Silver Line run through Eastie.  If you're near Maverick Station, for example, it takes five minutes to get to the heart of the Financial District. Five minutes!
You can also take a water taxi to town – an excellent way to squeeze in your daily connection with nature on a gorgeous day.
And, Logan Airport is right in East Boston. The agony of counting the minutes stuck in traffic and worrying about missing your flight is always the worst part of any journey, so it's nice to cut that down a bit. The Maverick T station is only one stop away from Logan.
The incredible convenience of East Boston is icing on the waterfront view cake.
3. Big City Location, Small Town Feel


Source: Brandon Bartoszek, Flickr

East Boston has become incredibly popular for many first-time home buyers. A family friendly area with a plethora of both indoor and outdoor activities, the neighborhood has both public and private schools, including several operated by Boston Public Schools, Excel Academy Charter School, and the East Boston Central Catholic School. Further, Eastie is home to one of the most beautiful neighborhood branches of the Boston Public Library, which overlooks Bremen Street Park.
Residents also enjoy the local farm stand, Shaw's Supermarket, or the abundance of local delis for their provisions. A CVS and Walgreens are also right in town, making it even more convenient to live there.
As previously mentioned, there is ample green space. You'll be inspired to run, walk, or bike along the East Boston Greenway or Harborwalk. Or maybe you'll want to enjoy a hike in Belle Isle Marsh. Did I mention there's a beach? Constitution / Shay's Beach is always a fun time.
4. Coolness


Source: Yahya Noor / Tawakal Cafe / Bon Appetit

Perhaps the only reason you've ever been to East Boston is for a slice of Santarpio's pizza.  But Eastie is any foodie's wildest fantasy, with some new restaurants named amongst the city's best. Here you will find savory Australian pies from KO Catering + Pies at the Shipyard, $1 pupusas at local delis, fine waterfront dining options (just go to ReelHouse), and a spectrum of Asian and Latin American eateries – an eclectic mix of options rivaled by few other places in the world.
There's also a reason the Institute of Contemporary Art (ICA) opened its satellite gallery, the Watershed, in Eastie. Though it only opened its doors in the summer of 2018, shows such as Yayoi Kusama's LOVE IS CALLING have already gotten a lot of attention and already seem to be completely sold out for many dates. There's just a certain energy to a place that formerly had the hustle and bustle of a shipyard.
5. Real Estate Bargains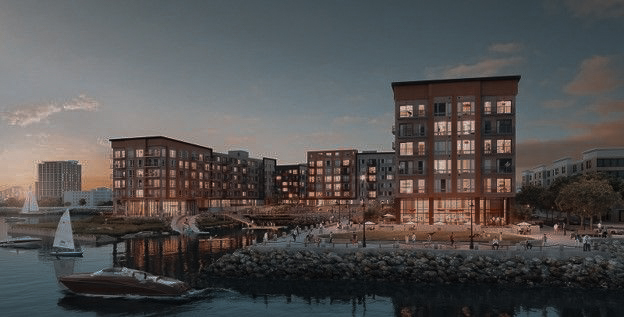 Photo: Clippership Wharf

In more recent years, young professionals started to move out to East Boston, bringing with them gentrification and demand for real estate. Due to demand from first-time buyers, investors and developers swooped in to capitalize on the area's potential, flipping and building properties at a rapid rate.  This in turn has led to extensive displacement in the neighborhood: with the increase in the number of waterfront highrises, many in the Jeffries Point neighborhood have lost their harbor views.  We surmise that something will be done to remedy this.  More highrises perhaps?
General reasons we believe the demand for quality real estate will continue over the next few years:
The local economy is generally shifting towards the life sciences and technology sectors, which has driven up demand for residences in surrounding neighborhoods. This is particularly pronounced in the greater Boston area, home to some of the most prestigious universities in the world.
The annual rate of job growth is reported to have accelerated in Q4 2019 to approximately 40,000, pushing metro unemployment in Boston to 2.3 percent, the lowest rate of all large U.S. markets. There are no leading economic indicators hinting that this will change any time soon.
As urban growth trends towards climate-positive changes, on-demand mobility services, and expansion of walking, cycling, and transit infrastructure, we see tremendous potential for even more economic growth in this waterfront area1.
With median home values reported by Zillow to be at ~$511,737, we believe now is a good time to acquire reasonably-priced real estate in the neighborhood.   Several of our partners have successfully invested in East Boston, a trend we believe will continue for the foreseeable future.
Please e-mail us at contact@rdadvisorsre.com or on Telegram for more information about our financing solutions.
---
[1] Please analyze the markets and consult an investment professional before you buy real estate or make any other investment. Property values fluctuate and are difficult to predict.
We make no warranty or representation, whether express or implied, for the accuracy, completeness or usefulness of any information disclosed. Certain information is based on data provided by third-party sources and, although believed to be reliable, it has not been independently verified and its accuracy or completeness cannot be guaranteed and should not be relied upon as such.
Certain information contained in this presentation constitutes "forward-looking statements," which can be identified by the use of forward-looking terminology such as "may," "will," "should," "expect," "anticipate," "target," "project," "estimate," "aim," "anticipate," "intend," "continue" or "believe" or the negative or grammatical variations thereof or comparable terminology.  Due to various risks, uncertainties or other developments, actual events may differ materially from those reflected or contemplated herein and qualified by such forward-looking statements.  In addition, some of the information includes our opinion on or interpretation of various economic trends – and it is meant to be just that, an opinion or an interpretation, not a fact. You should use your judgment and form you own opinion to decide on whether they agree with us.